Yesterday, I bought a fall bouquet at a local flower shop.  To my surprise, there were pink alstroemeria flowers in the bouquet!  I guess I always thought of these flowers as more of a Spring flower, but they did compliment the bouquet nicely.  I got my camera & tripod ready and outside I went!
I decided to use only in-camera settings.  This first one is shot in tungsten white balance mode.  It casts a bluish hue to the photo.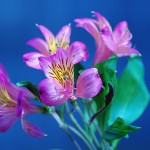 The next mode I used was daylight as the white balance.  The flower is more it's normal color.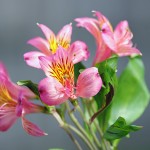 Finally, this next one is an in-camera filter.  It's called toy camera.  This setting gives the picture a more dramatic look.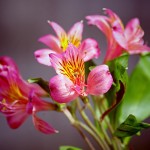 My favorite picture is the toy camera.  I really like the dramatic effect.  What is your favorite picture?  All pictures were taken with my Pentax K5 using a Sigma 70-200 f2.8 lens.